Gamified cybersecurity training for employees.
Gamified microlearning that's engaging and fun.
Create custom, branded training to empower your employees and reduce cyber risks in your organization.
Cybersecurity training is no longer a 4 letter word among staff
Because of Drip7, cybersecurity training is no longer a 4 letter word among our staff. Instead, there is now motivation through friendly competition to climb the leaderboards.
Cybersecurity awareness is becoming habitual, and responsiveness potential threats at all levels has dramatically improved.
Toby Broemmeling
Next level individual training
As a CFO my primary concern are the Financial Internal Controls. Perhaps more important is the security of an Organizations Network, Intellectual Property, Customer information, etc.
Drip7 provides next level individual daily training to every member of my team, reminding and training them in best practices in today's security environment.
Mike Puryear
No more training fatigue
Drip7 is thinking about training in a way that meets the requirements of the enterprise without creating training fatigue. Drip7 ties training to success in a way that is manageable for everyone involved.
They are continually adapting to customer needs and encourage feedback to make the platform better. We had a smooth onramp with responsive expertise for any questions we had.
Paul Swaim
Surprisingly simple. Obviously effective.
The core concept behind Drip7 is surprisingly simple, but obviously effective. In the current security space where everyone feels over-trained and disconnected, Drip7's system keeps training approachable and engaging while still keeping security at the forefront of mind on a daily basis.
Scott Griffith
Easily create and deploy custom questions and content to your employees. Need a specific set of questions added? Done. From cybersecurity to corporate compliance, you can keep all your employee training in one place. Our team will work with you to ensure all your training needs are easily managed.
Give employees the tools and practice to be safer and more knowledgeable. Your team will be more involved in the training thanks to microlearning lessons taken on their own time and schedule. Your training will be fun and easy to use, providing a more enjoyable experience for your team.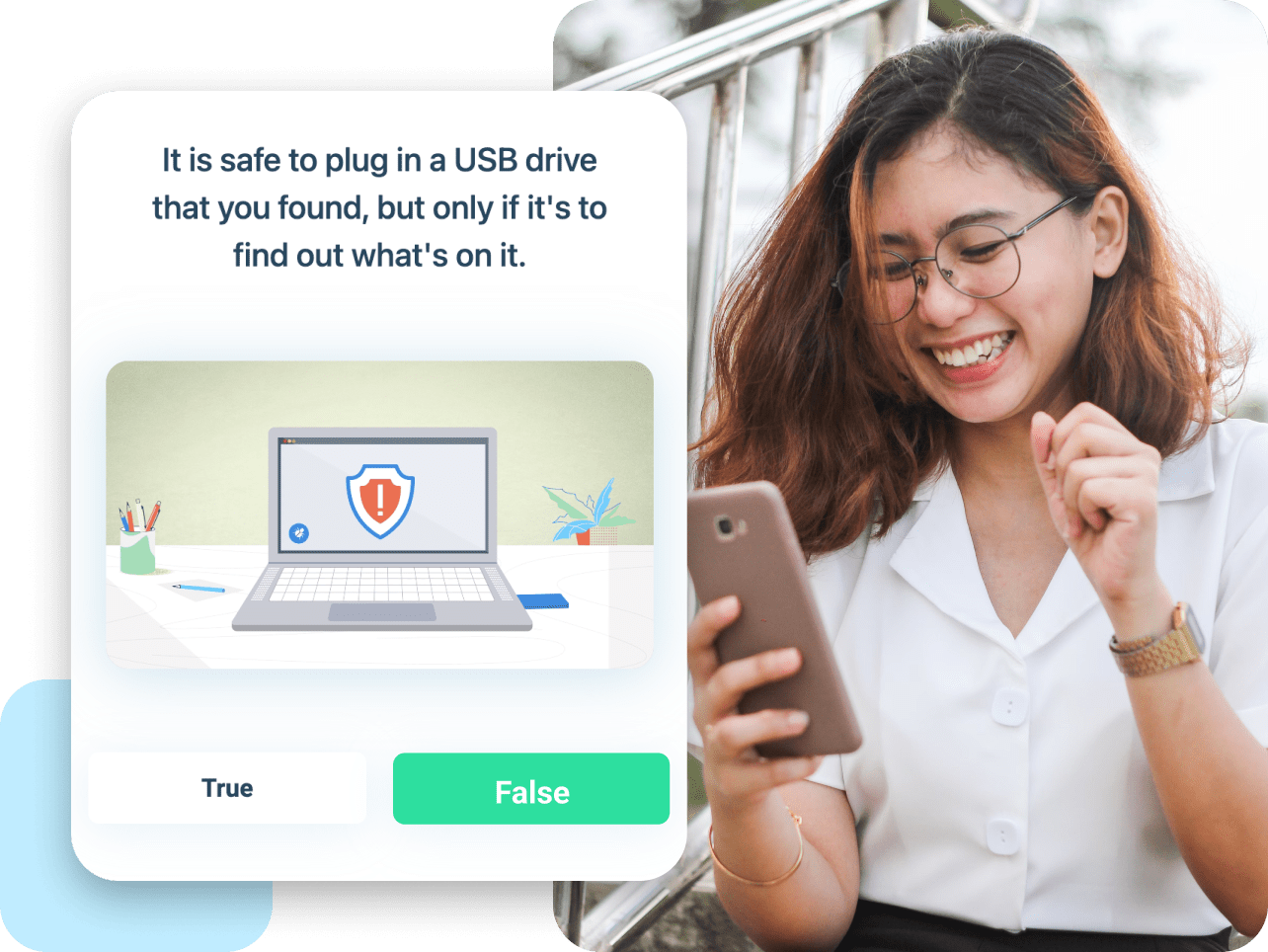 Create a culture of rewarding and recognizing specific behaviors. Your team will enjoy the training and will actually learn and grow. Gamification makes training something your team will want to do and helps build camaraderie through shared experience.
Give employees specific job training and levels of progression and track the results. It's never been easier to provide onboarding and continuing training to every employee within your organization. If you need job-specific training, we can help you make that happen.
Better Training. Better Security.
Customizable content
Use our cybersecurity content, or upload your own.
Brandable interface
The platform can come directly from your company.
Tracking and reporting
Advanced reporting helps you keep track of efficacy.
Mobile friendly
Employees can participate from any web-ready device.
User dashboard
Your team can track their own progress and badges.
Admin dashboard
Easily manage the platform with a user-friendly dashboard.