Addressing techno-stress at work can be an important component of recognizing September as self-care awareness month. We all need better self-care in essential aspects of our lives, both at home and at work. Self-care at work can increase both our productivity and satisfaction.
What is Techno-stress?
Technology-related stress has been named "techno-stress." Techno-stress is expressed as stress caused by uncertainty resulting from technological changes. For example, a few decades ago, workers could start a job or learn a trade without their job changing significantly during their working period. That is not the case anymore.
The use of ever-changing electronic and computer technologies and systems enables an organization to be more efficient in its core business and more useful in its functional areas. Employees must be able to use these systems, or they may be left out. This constant pressure can increase work anxiety. Continuous training of new systems is necessary for many companies. This can cause techno-stress, which itself leads to lower employee performance in terms of job performance. Failure of employees to adapt to such changes also causes more tension and stress.
Gamified Microlearning Doesn't Add to Techno-stress
"Gamified microlearning can be part of how employers address techno-stress in their organization by making training more enjoyable, engaging, and rewarding," states Heather Stratford, founder and CEO of Drip7. "Continuous learning in bite-size units helps limit stress and creates a positive shift in the culture. The frequent sense of accomplishment increases self-esteem, and the gamified aspect improves motivation," Stratford continues.
Microlearning fits into a busy work schedule. With worker activities split into onsite, hybrid, and remote – the old-school gathering in the conference room for an hour of training is gone. New learning platforms can be easier to administer and more convenient for the user.
The S Curve of Learning
The Harvard Business Review outlines a growth journey of learning modeled by an S Curve of Learning. At the base of the S we are on a launch point where we encounter fruitful struggle. Growth is slow, sometimes hard to discern, but it is happening. Small, achievable goals and appropriate metrics help us see momentum and experience early victories. As expertise and momentum build, we tip into a sweet spot of competence, a phase of rapidly accelerating progress and productivity. Many projects may come to successful completion during this time. Eventually, however, our growth slows as we approach mastery. The top of the S can be a danger zone of boredom and stagnation.
Eventually, we have to move on to a new challenge, but it's important to remember that celebration is itself an important milestone on the S Curve, whether it's an individual's, a team's, or an entire organization's S Curve.
Gamified learning can have the celebration built-in by making that S-curve learning journey more fun on the journey itself and then have a celebration of the knowledge attainment.
Hybrid Work Can Add to Techno-stress
In addition to potential issues with technology and connectivity, hybrid workers report trouble with collaborating, being distracted by nonwork activities, and having difficulty prioritizing their well-being. As a result, hybrid workers are more likely to experience stress (including techno-stress) and burnout than other workers.
More than 87% of individuals think that their employer should do more to support their emotional and mental health.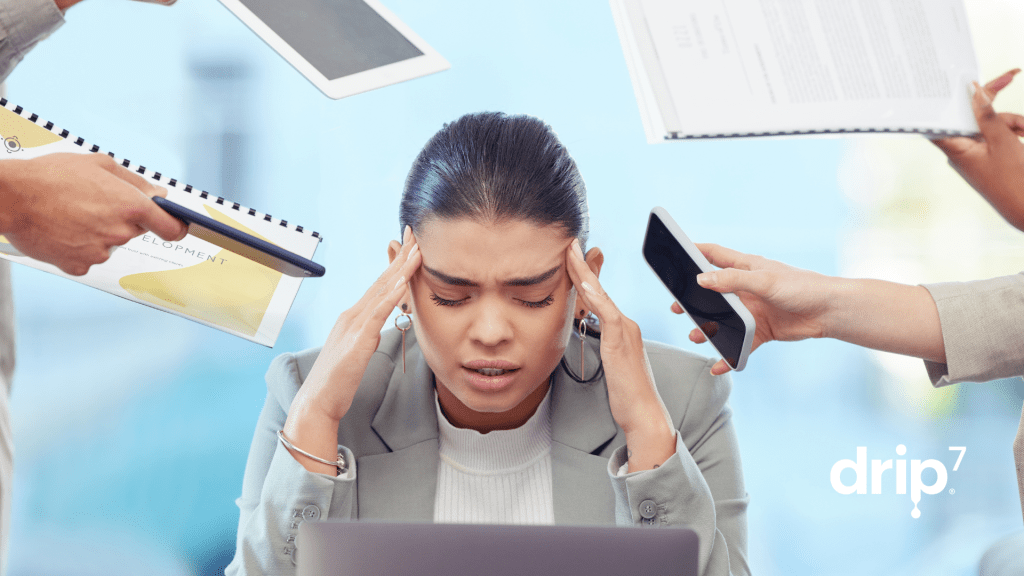 Engaging in Self-care Works
Employees who engage in self-care activities are more likely to be productive and motivated at work.
Employers can have a toolkit to address employee needs for self-care on the job and techno-stress.
Technology use is an essential part of our daily lives, but studies have shown that excessive or overuse of technology can cause negative effects on our mental and physical health, including stress, anxiety, and depression.
Help Your Team Help Themselves
Organizations would be wise to create avenues for their people to care for their mental and physical health at work. Breaks, social opportunities, a healthy work/life balance, and fostering a culture of communication and support are some of the ways to nurture people in combating techno-stress on the job.
Gamified microlearning training in organizations can supply the essential learning needed as technology constantly evolves to provide the frequent boost of achievement and fun necessary for motivation and productivity. It is a win for the organization and its people.
References